Table of Contents
SEE PHOTOS OF RECENT SHAES FIRE/RESCUE RESPONSES AND ACTIVITIES THE YEAR IN REVIEW IN PHOTOS FIRE SAFETY MONTH PHOTOS
The Mission of SHAES
The Mission of the South Haven (Michigan) Area Emergency Services (SHAES) is to preserve life, limb and property through aggressive fire prevention, education and fire suppression. To provide the highest quality of emergency medical care with skill and compassion. To serve our communities with pride, integrity and courage.
SHAES News Updates
2241 Continues in Service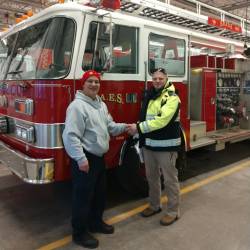 For more than three decades the South Haven community has been served by the Pierce Arrow Telesquirt (2241). With a 50-foot ladder, it was acquired in 1986. In recent weeks SHAES has acquired a 2017 truck with a 75-foot ladder custom-built by Spencer Manufacturing of South Haven We are pleased that the Pierce truck will continue in service as it has been acquired by the Ganges Township Fire Department. SHAES Chief Ron Wise is pictured transferring the truck to Ganges representative Matt Zawilla.
Fire Safety Lessons are Offered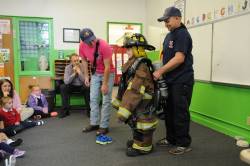 School kids throughout South Haven received a fire safety message from SHAES first responders during October in conjunction with national Fire Prevention Week. SHAES staff gave hands-on lessons to sixth graders, visited dozens of elementary school classrooms and hosted their annual Fire Safety Fun Night for kids and their parents/grandparents. See Schools Fire Safety Photo Gallery
Rotary Supports Fire Prevention Program
The South Haven Rotary Club on Tuesday, Oct. 3 hosted representatives from SHAES– Chief Ron Wise, Deputy Chief Tony Marsala and Captain Ron Ridley. They presented a department update and brought with them the department's new Ladder One truck and the 31-year-old truck it will replace. The Rotarians had visited Spencer Manufacturing right here in South Haven in months past to witness the truck being assembled. In support of the SHAES fire safety program in our local schools, Rotary has awarded the department a $500 grant. GRANT Chair Art Ayers is pictured presenting the check to the SHAES guests.
Helping Safeguard a Community Landmark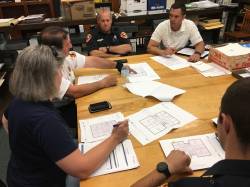 SHAES staff has been actively involved in the design of a fire detection system at the historic Hartman School which is now the home of the Historical Association of South Haven (HASH). The 111-year-old building is a designated Michigan Historical Site. The Historical Association is an all-volunteer organization which has received financial support for the project from the Rotary Club of South Haven, Women Who Care of South Haven and South Haven Community Foundation. SHAES staff helped HASH identify vendors for the project, review proposals for the work and finalize the installation scheme.
New Ladder Truck Arrives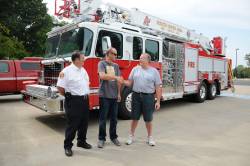 South Haven Area Emergency Services is proud to announce the delivery of our 2017 Spartan 75-foot ladder truck manufactured by Spencer Manufacturing of South Haven Michigan. The new ladder truck replaces our current 50-foot ladder truck that is 31 years old. The truck is powered by a 500-horse power Cummins engine with Allison 4,000 EVS transmission with dual power take off's. Twelve-hundred-gallon poly water tank and 20 gallon foam cell allows for Class "A" foam to be applied on most fires to help with extinguishment. PTO driven 8KW generator will allow firefighters to run portable lighting, power fans and tools all at the same time if needed. The truck is outfitted with 1,000 feet of large diameter fire hose, over 800 feet of hand lines, Jaws of Life power tools for extrication, blitz attack nozzle for quick knock down of large fire mounted on the front bumper. The Chassis is outfitted with auto lube system to help keep all moving parts on the chassis lubricated. Inside storage for ground ladder and suction hose will help keep the equipment out of the weather. The cost for the ladder truck and loose equipment was budgeted out of SHAES capital replacement fund $846,400 and took eighteen months to complete. Ladder One replaces the 1986 Pierce Telesquirt Ladder which will remain in service through the Ganges Township fire department.. See Special Photo Gallery Read MLive article / Read WSJM Report.