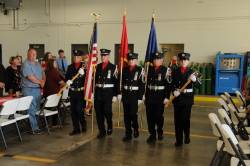 Awards and recognitions were presented to members of South Haven Area Emergency Services during the department's annual dinner on Saturday, May 5.
Click here for photo highlights
James A. Quinn has been chosen by his peers as the Firefighter of the Year. A member of the departnment's paid-on-call staff for 26 years, he is a first responder from the department's Casco Township station and a member of the Honor Guard.
"Jim has contributed countless hours of dedication and time to the citizens of our coverage area," said Chief Ron Wise. "He is always willing to lend a hand whether it's a fire/ems call, the honor guard or special events. Even since retiring from his day job when most would enjoy some down time he's there to lend a hand. He is truly an asset to our department."
The department's Leadership Award has been presented to Shawn Smith. Now in his eighth year as a fulltime member of the department, Smith is being recognized for the job he has done increasing the department's level of skill, knowledge and patient care.
"Shawn demonstrates the qualities of a leader without holding any rank with the department," noted Wise. "He is always looking for new ways to help our community by training our staff. He is self-driven with a goal to keep improving himself and this department."
Wise lauded a team effort in rescuing two 12-year-old girls who were caught-up in rising flood waters during a storm earlier this year. Presented Lifesaving Awards were Anthony Marsala, Shawn Smith, Zach Kenreich, Steve Jones, Brian Montgomery, Keith Bierhalter, Cesar Garcia, Cody Sedlak, Ronald Washegesic, Brian Horan, Sr., James A. Quinn, Patrick Quinn and Timothy Quinn.
Presented a special Compassion Award was Dawn Hinz for the special care given a 10-year-old girl trapped in a vehicle involved in an accident.
"When the little girl was being prepared for transport to Bronson Hospital in Kalamazoo, she asked Dawn not to leave her. Dawn did not hesitate and climbed into the ambulance to stay and comfort the child. Dawn received permission from the patient's mother to follow up on how she was doing after treatment at the hospital. She kept the contact with the family and even bought a gift for the little girl for Christmas. Dawn is a true example of what patient care is and why our staff makes such a difference in our community."
In 2017 SHAES responded to nearly 1,600 medical emergencies. Many resulted in performing CPR on patients. Presented "I Made CPR Count" pins were Ronald Washegesic, Brian T. Horan, Brian J. Horan, Brad Filbrandt, Dustin Guminski, Zachary Kenreich, David Griessel, James Lindemulder, Cesar Garcia, Matt Russell, Brandon Hinz, Dawn Hinz, Steve Jones, Tim Van Holt, Patrick Quinn, Tim Quinn, Zachary Church, Brian Montgomery, Joahanna Quinn and Paul Quinn.
Years of service awards were presented to Keith Bierhalter, 35 years; James Lindemulder, 15 years; Dawn Hinz, 10 years; Zachary Church and Andrew Grossman, five years.
Welcomed a new paid-on-call members were Daniel Delia, Zachary Mulac, Thomas Kuhn and Daniel Delia. All four have achieved Firefighter 2 and Haz-Mat Operations certification. New fulltime staff member Zachary Kenreich achieved Fire Inspector certification.
A newly created committee has taken training to a new level at SHAES. The committee consists of fulltime and paid-on-call staff. Commended for their work were Shawn Smith, Brian Montgomery, Tim Quinn, Owen Ridley, Ronald Washegesic and Mark Kaput.