South Haven Area Emergency Services
The Mission of SHAES
The Mission of the South Haven (Michigan) Area Emergency Services (SHAES) is to preserve life, limb and property through aggressive fire prevention, education and fire suppression. To provide the highest quality of emergency medical care with skill and compassion. To serve our communities with pride, integrity and courage.
SHAES News Updates
Fire Safety Fun Night is October 11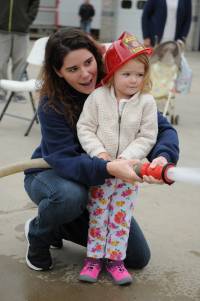 The annual SHAES Fire Safety Fun Night will be held Thursday, October 11, at Station 3 on Blue Star Highway from 5-8 p.m. The event, which is open to all ages, will include demonstration and hands-on training. Parking for the event will be available at the Moose Lodge across from the fire hall on East Weel Street. Parents are reminded that children need to be accompanied by an adult. SHAES staff will also be visiting schools as part of Fire Prevention Week. See photos from 2017 fire safety initiatives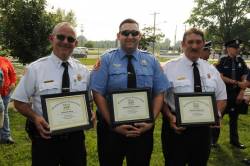 South Haven Area Emergency Services was among the first responders presented Leadership Awards for service to the community by Bobby Walker Ministries on August 10. Receiving the award on behalf of SHAES were Chief Ron Wise, Part-paid Association President Ron Washegesic and Deputy Chief Tony Marsala.